Meet "Mr. Typhoon"
An Interview with Naga's Prominent Meteorologist,
Mr. Mike Padua
by Jeonoah Kali A. Fornoles*
<![if !vml]>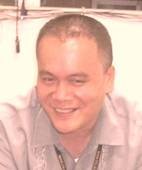 <![endif]>
For years, he has already been in the forefront of local Meteorology, particularly on typhoons as he would be time and again be proven to be accurate in typhoon prediction. But, more and more people considered him to be a real expert on typhoons when, in 2004, he correctly predicted typhoon Unding's return to Naga, something which was unexpected and irregular. Because of his accurate forecast, he was able to save many lives and properties as the people were able to prepare for the calamity. For this, a thankful Naga and its Mayor presented him with the 2005 Mayoral Award.
He is the son of Mr. Francisco A. Padua, Jr., a Retired Architect and Insurance Manager and Mrs. Emerita V. Padua, the Vice-President for Finance of the Naga College Foundation. He has also 5 siblings - 3 brothers and 2 sisters. He is none other than "Mr. Typhoon" - Mr. Mike Padua.
Mr. Padua was born on December 5, 1972 here in Naga City. During his childhood, he was just like any other child, but at the early age of 5, he already had an interest in typhoons. When he goes to school, he always brings a small tracking chart for typhoons. He had few friends, probably due to his shy personality. After school, he would always go home early, sometimes waiting for his mother and at times, returning home by himself to watch the weather report.
His parents, as he considers them, are the best parents because of their support, care and understanding. Unlike other parents who dictate what they want for their children, his parents let him pursue his interests and let him do what he loves. In his family, there is love and support for all.
Aside from typhoons, he was also interested in music during his high school days when he collected records during those days. He said that his mother told him that as a boy, Mr. Padua would go out of the house whenever a typhoon hits the area. "Typhoons are in my blood" he said. Ever since the day he was born, the interests in typhoons were already there. "Its God's gift" he added.
Due to his unique interest, he sacrificed going out with friends and sometimes, concentrating more on typhoons instead of school.  He read many <![if !vml]>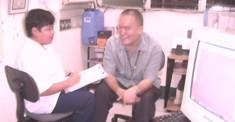 <![endif]>books on typhoons, and when the internet era began, he extended his knowledge through online research.
During college, he was supposed to take BS Meteorology. But since this course is not offered in the Philippines, he took BS Geography, which at least has a connection to typhoons. Another noteworthy experience of his was his difficulty in Math. "I am very poor in Math" he emphasized. But, he didn't let this stop him. After his graduation, he expanded his knowledge by using the internet. He developed his now well known web site, "typhoon2000.com".  
Even today, where he is already considered an expert in his field, he continues developing his skills through attending conferences both here and abroad, scanning the latest research and models and using the most advanced technologies. He does not stick to textbooks because; they might not be applicable or valid nowadays. He does plenty of research. "Education is not a four-year course. It is a continuing study on the new knowledge that you get" he stated. Studying should be continued in order to be able to attain new knowledge, and ultimately, save lives.
Many people think of him as a scientist, but he said, "Actually, I'm just an ordinary employee here at the Naga College Foundation". You could see that despite his popularity, his small office is just like any other ordinary one - except, of course, his two computers which are constantly tracking typhoons and other weather phenomena.
He gives information to the public in such a way that every single person, especially the poor and less educated persons could easily understand his explanations. This special skill helps make him very popular. A typhoon's wrath, affects poor persons more than others, so by using laymen's terms, Mr. Padua could make them easily understand the dangers and precautionary measures to be done in order for them to help them prepare for one of nature's worst calamities.
He believes in instincts and gut feelings. But, in order to have correct instincts, you should have the proper knowledge. An example of this was way back in 1987, when typhoon Sisang entered the Philippine area of responsibility, he already had a bad feeling that this was going to be a bad storm and that it was going to affect the country, particularly, the Bicol region. Sisang developed into a super typhoon. He was able to correctly predict what was going to happen even though he was just a 3rd year High School student at that time.
His service to Filipinos is greatly appreciated. During the typhoon Reming, his service was again badly needed. He was the person, who monitored the storm's hourly position, for several days, which he recalled was a tiring task.
In the future, Mr. Mike Padua would like to put up a center and foundation where he would teach persons on typhoons in order to help the public take the right measures when a storm hits the area. He also dreams of having a family of his own.
When asked "What should Filipinos do to become better scientists or to produce more scientists", he answered that it should start within our own families. The support should be there and parents must allow their children to do what they want and not to dictate what the child should be. The country must also improve its education and offer more courses in other fields so that learning would be much easier. The country's economy should also be improved. Some good scientists would rather choose to go abroad because of the bigger salary. In Mr. Padua's case, he said that he couldn't leave the country because its people really need help and the typhoons, which his work revolves around, are here.
<![if !vml]>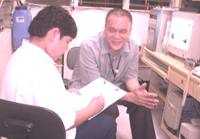 <![endif]>"First of all, you must have the passion and interest" he said. Since childhood, the passion and interest for storms were there. And, today he has become one of the most famous meteorologists. But despite his popularity, he remains to be humble, simple, unselfish and friendly.
We should all learn from him that we should follow our passion and interest because that is what we really want to do, and, it is not just for our future but for our country's future.
July 3, 2008       
---------------------------------------------------------------------------------------------------------------------------------------------------------------------------------------------------- 
*Jeonoah Kali A. Fornoles is a 12-year old, 1st year High School student of Naga City Science High School. You can reach him at  kali4noles@yahoo.com