Typhoon Muifa (Unding) was a unique, compact and rare kind of tropical cyclone that caused a lot of headaches and surprises to meteorologists and most especially the affected communities. This typhoon was considered the worst tropical cyclone ever to hit Naga City and Camarines Sur since Super Typhoon Angela (Rosing) of Nov. 1995.
What made Muifa unique was its slow westward drift and stop-overs north of Bicol Peninsula that lasted for days, then its rare-clockwise loop just east of Central Luzon, before its southward and southwestward track across Camarines Sur on the night of Nov. 19. Muifa now joins the ranks of disastrous "loopers" like Manny (Naning) of Dec. 1993 and Pamela (Aning) of Dec. 1982.

INITIAL THREAT TO NAGA

Muifa's origins can be traced back from a weak LPA pressure system hovering across Western Marianas on the afternoon of Nov. 12. Then on the evening of Nov. 13, the system developed a little bit with a partially exposed center. Finally, on Nov. 14, the first warning on Muifa was issued by the three agencies namely: Joint Typhoon Warning Center (JTWC/U.S. Navy & Air Force), Philippine Atmospheric Geophysical and Astronomical Services Administration (PAGASA), Japan Meteorological Agency (JMA). The system seemed a little bit disorganized but managed to reach minimal Tropical Storm status on the evening of Nov. 14 with its center not yet aligned but accelerating west-northwestward.
As the storm approached the Bicol Peninsula on the evening of Nov. 15, Muifa's WNW track suddenly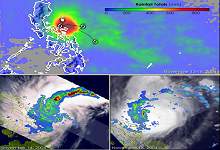 slowed down from 28 kph to just 13 kph as it entered an area of weak steering flow in between a developing high pressure ridge over China and a weakening high pressure ridge south of Japan. Muifa's slow movement continued for more than 24 hours beginning in the morning hours of Nov. 16 until the afternoon of Nov. 17. During that time frame, the storm turned more to the west, passing about a hundred kilometers to the North of Naga City. During the initial passage of Muifa from November 14-18, the weak storm released a total of 8.26 inches of rainfall which flooded some low-lying areas of Naga City. Wind gusts of 48 kph blowing from the North was recorded. The forecast models predicted a west-southwest movement of Muifa into Camarines Norte within the next 24 hours. However, more complications within the storm's environment continued to delay its sudden turn.
On the evening of Nov. 17, a middle-latitude low pressure which popped out from synoptic weather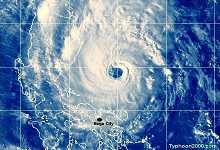 charts contributed further to the now erratic motion of Muifa. As the mid-latitude low passed above Muifa's circulation, the storm erratically moved northward to north-northeast slowly in response to the passing low pressure. The storm's intensity has increased from 65 kph to near typhoon intensity as most of its circulation returned to the warm waters of the Philippine Sea. The whole day of Nov. 18, Muifa rapidly intensified to almost super typhoon strength with winds reaching 215 kph as the passing low provided nice poleward outflow over the system (click here to view satellite image). As the low quickly pulled away, Muifa was once again back under the influence of the Chinese High Pressure Ridge. Muifa's movement at first remained almost stationary with a little Eastward drift.
As the dawn of Nov. 19 approached, Muifa's "eye" weakened considerably with winds down to 160 kph, as the ridge over China started to push Muifa southward. Muifa's track at around 3am (19Z) of Nov. 19 was southeastward slowly. By that time, all agencies together with the majority of the models were still predicting a Quezon-Camarines landfall in 24-48 hours except for our weather bureau, PAGASA which predicted Muifa's movement to track NW to WNW into Northern Luzon.

IMMINENT DANGER

As I woke up around 6:30 in the morning (22:30 utc) of Nov 19, I quickly opened the monitor and refreshed the browser to get the latest satellite image and GOES animation that showed that the system was starting to track more southerly. This prompted me to call our local PAGASA to advise them about the imminent danger. They told me that their main office in Manila still believed that the storm would move wst-northwest. At around 10am (02 utc), I drove to our school (Naga College Foundation) and stepped into my office where I got the latest satellite image which continued showing the Southward drift of Muifa accelerating a bit – that was barely 12 hours before the eyewall passage over Naga. I already took some video on the approach of the outer bands. The pressure readings at that time was still high (1008.7 hPa) with wind gusting up to 26 kph blowing from the northwest. As of 11am (03 utc), I received the latest PAGASA bulletin that still showed no Philippine Storm Warning Signals raised over our area. This prompted me again to call up our local PAGASA for the second time around.
Then at around 3pm (07 utc), I went home to have a late lunch and created last minute animation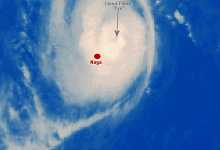 of Muifa. After finishing the animation it was already 4 in the afternoon! That was barely six hours before Muifa's destructive approach. By that time, the pressure has dropped already to 1004.7 hPa with northwesterly gusts reaching 40 kph. I checked the 3:30pm (07:30 utc) satellite image that showed that Muifa has accelerated further towards the South to SSW. I decided to call our city mayor to advise him that we must prepare for the possible nighttime approach of Muifa. I told him that the closest approach of Muifa over Naga City would be around midnight. I also told him that PAGASA has not yet raised any storm signals over our area. I explained to him that our city must be under storm signal number 3, which means that winds of more than 100 kph can be expected in at least 18 hours, and we were only six hours away from the destructive winds!!! He thanked me right away and the mayor called an emergency meeting and all the radio stations regarding the danger Naga had to face.

Click here to view sequence of images during Muifa's southerly turn.
Around 4:30 in the afternoon, I quickly drove back to my office, where many students of our college were waiting for me to post what signal we were in. As I plotted the latest position of Muifa (based on the last satellite image), I posted the Signal Number 3 an hour before the official PAGASA bulletin went out! At that time all classes and offices were suspended. Then as the PAGASA bulletin went out around 5:30pm - the signal was still No. 02!!! I said to myself "My goodness! People will get angry with PAGASA." I took some last minute video clips of the approaching storm as the sun set. Around 6pm, my girlfriend and I left the school campus and went out for some quick dinner before driving home to check if everything was okay. It was already 8:30 in the evening when I drove my girlfriend home but the situation was not yet worse with passing showers and gusts reaching 60 kph.

SOUTHWESTERN EYEWALL ENTERS NAGA
As I was driving home, the wind remarkably picked up, and it was almost 9 in the evening. Flashes of light (from the cloud-to-cloud lightnings) intermittently illuminated the night sky of Naga with some sudden gusts and passing showers, but this time, it worsened a bit. Electricity around the city flickered on and off like christmas lights! I decided to take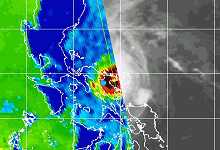 some last minute videos of the worsening conditions on the same subdivision where I took Nida's video last May, except this time it was nighttime. It was already 9:15 pm when I decided to drive straight home as the winds started to shake my car, at that time, my estimate of the gusts was almost a hundred kilometers per hour. (click here to view satellite images) I was lucky enough to reach home without any branch of tree falling to my car. There was one remarkable incident that happened while I was driving home: flashes of lightning illuminated the night sky with a very loud thunder which was like a bomb exploding in Baghdad!!! My God! Was this a thunderstorm??? Anyway, as the eyewall made its final approach, I still was able to take some night videos outside my house along the garage. At around 10 in the evening, the worst of the typhoon had arrived! My Davis Vantage Pro weather station recorded 10 min. wind average of up to 80 kph (NW-North) with gusts reaching to 130 kph (North); highest rain rate was at 18 inches per hour; and the lowest pressure reading recorded was at 986.1 hPa at 10:14 pm (14:14 utc). I heard the sound of flying debris and falling trees outside the house as the winds continued to scream. I was then waiting for the sudden lull, but there was no calm. Then, at 11pm, the storm's eyewall began to move farther away from Naga, as confirmned with the rapidly increasing pressure which was already up to 992.7 hPa. The 10-min average winds diminished to only 50 kph blowing from the north to northeast (gusting up to only 70 kph). At this point, the typhoon has accelerated which was supposed to arrive around midnight. I went out to take some nighttime video and look at the damage outside my house, it was horrendous! By midnight of Nov 20, the winds had dramatically died down to an average of only 30 kph coming from the East. At around 2 am, it was eerily calm as if nothing happened! I took a 4-hour sleep afterwards.

Click here to open video viewer during the typhoon's final approach to Naga City.

THE AFTERMATH
As I woke up around past 6 in the morning of Nov 20, everything was a mess. Almost all of our trees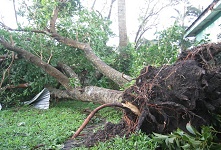 outside were broken or uprooted. The aftermath video of our lawn will let you agree that Muifa was one hell of a storm. From my experience, Muifa was the fastest and strongest typhoon ever to hit our city since 1970. The damage across our street were enormous: powerlines down, 100 year old Narra tree just across the street - uprooted and many trees either broken or uprooted. The winds didn't reach more than 200 kph as evidenced by the coconut trees shown on the video. However, along the coastal areas of Camarines Sur, the area where the "eye" made landfall first, wind speed might have reached 200 kph. In the afternoon of Nov 20, my friend and I drove around his motorbike and captured some images of Muifa's wrath over Naga. The scene was the same all over: partially damaged homes and severe damages to crops and infrastructures. As of this writing, death toll stood at 60.

Click here to open picture viewer of Unding's damage to Naga City.
(Note: best viewed using 1024x768 screen resolution).
ANALYSIS
1. Spin-Up Vortices (SUVs)
I mentioned awhile ago about this remarkable lightning and thunder as the eyewall approached. Never in my life, have I experienced this kind of phenomenon. Is this common for typhoons? I also believe there was an intense updraft within the eyewall, which generated some "Spin-up Vortices" (SUVs) as theorized by the late Dr. Ted Fujita (Mr. Tornado). SUVs are small tornado-like vortices which can double the sustained winds of a typhoon. For example, If Muifa's sustained winds over Naga was 80 kph, these vortices can double it up to 160 kph! That's why there were some areas which reportedly saw SUVs. The town of Roxas, Oriental Mindoro witnessed some SUVs as Muifa's eyewall passed over the area during daytime. This SUV is part of the "Eyewall Offspring Theory" of Dr. Fujita. For more details regarding "Spin-up Vortices," click: http://www.typhoon2000.ph/ty2000img/spinupvortices.jpg
2. Where Did The "Eye" Pass?
Since the typhoon made landfall during nighttime, it's hard to depict where the "eye" really passed, unless the area where the system passed has a weather station. Take note also that the typhoon was weakening while accelerating Southward and its circulation has become more and more compact. Luckily, I got a Davis Vantage Pro Weather Station that will help these agencies analyze where the eye really passed. As I reviewed the data taken from my station, it clearly showed that the eye must have passed very close to Naga City (13.6N 123.2E) probably to the East (over Mt. Isarog) based on the "Buy's Ballot Law". I successfully recovered Muifa's 8pm (12 utc Nov 19) positions from all agencies. Among all the agencies, JTWC position was the best: 13.9N 123.8E or somewhere along the coast of Caramoan, Camarines Sur. The only discrepancy was the 2am Nov 20 (18Z Nov 19) positions (13.5-13.7N 122.6-122.7E) of all agencies which showed that the eye "did" pass to the North of Naga which is not true anymore, because the wind shifted from the NW to the N, NE, then later around 1am (17Z) it was already blowing from the east! How come the eye passed due north of Naga? I hope my data will be able to help these agencies re-adjust their 2am Nov 20 (18Z Nov 19) position. I also noticed that the 8am position of JTWC was: 12.8N 121.5E - that's almost 1 degree below the 18Z position! It looks like the Visible GOES image helped the forecasters pinpoint its possible center at this new location. Take a look at this JTWC positions from 12Z Nov 19 to 00Z Nov 20:
1912Z: 13.9N 123.8E
1918Z: 13.7N 122.7E = my estimate: 1918Z: 13.4N 122.7E!=
2000Z: 12.8N 121.5E

>> Click here to view comparison tracking map (thanks to John Diebolt for his assistance).

3. Southwestern & Western Eyewall's Passage Over Naga
The raw data of the Davis Vantage Pro instrument clearly showed that the most intense part of Muifa that passed over Naga City was the Southwestern and Western Eyewall. This was based on the raw data report of the winds recorded. Since the typhoon was accelerating towards SSW to SW, Naga City only experienced the very strong winds blowing from the NW, NNW, NORTH, and NE before the wind died down from the East.

4. Low Rainfall
The storm's second approach and eventually a visit to my station only generated a total of 3.94 inches from Nov 19-20. It clearly shows that Muifa's rain area was only limited over a small area surrounding the cloud-filled eye and its sudden acceleration towards the Southwest. If the storm stalled, rainfall could have been high.

CONCLUSION
Typhoon Muifa's sudden southward turn towards Naga City and Camarines Sur really proves that nature is really tricky. However, if only PAGASA followed the most decent computer models (not the outliers), many Filipinos could have been saved. I don't believe that PAGASA's reason for their error is due to lack of equipment. If only they had used the internet, where all the models and hourly satellite images can be found - the story could have been different. Remember, the forecast of the sudden SW movement and track of Muifa was made as early as Wednesday, Nov 17 by JMA and JTWC! It was just a matter of time when it would happen. I hope in the future, PAGASA will be able to regain the trust of Bicolanos.

Published: 12:10 UTC / 25 March 2005